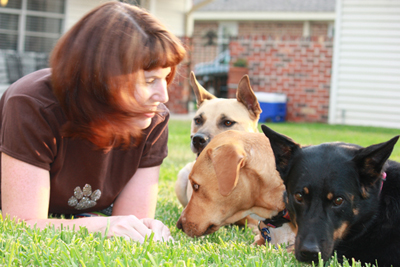 Kris Langenfeld, CPDT-KA
Owner, Trainer
Kris spent many years in corporate America, but found working with her dogs and fosters much more rewarding. She has a degree in psychology and has transitioned that knowledge into animal behavior. After an apprenticeship with a local positive dog trainer, Kris decided to open her own business ten years ago with the emphasis on pet dog training and behavior. She is a certified pet dog trainer (CCPDT-KA) with the Certification Council for Professional Dog Trainers for the past seven years.
Adopting rescues for over 30 years, she knows the difficulties and rewards (!) that come with giving these special dogs a second chance. Her passion is keeping dogs in their forever home. Kris gives you the tools and encouragement that are achievable and fun in helping your dog become a well-mannered family member. Contact her for a personalized plan.
Our Philosophy
As your dog's guardian, using the most humane, effective teaching methods is critical to your dog's ability to learn. That is why we use positive reinforcement training techniques.
If you reward the behaviors you want (i.e., positive reinforcement), your dog will understand much faster than trying to "correct" undesirable behaviors. Plus, rather than just having a compliant, obedient dog, you have a happier, more enjoyable relationship with your dog.
Setting a dog up for success will create an enriching environment and the appropriate behavior endures.